Continuous Trap Spell Card

Japanese

永続・罠・魔法カード

Japanese (ruby)

えいぞく・トラップ・まほうカード

Japanese (base text)

永続・罠・魔法カード

Japanese (romanized)

Eizoku Torappu Mahō Kādo

Japanese (translated)

Permanent Trap Magic Card

English

Continuous Trap Spell Card

Lists
Continuous Trap Spell Cards (永続・罠・魔法カード Eizoku Torappu Madou Kādo, previously 罠・永続魔法カード Torappu Eizoku Mahō Kādo lit. Trap Permanent Magic Card) are a type of Trap Spell Card that remains on the field continuously.
Example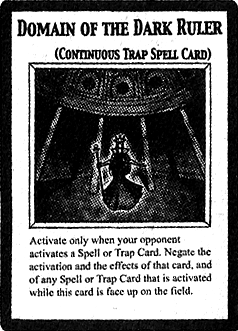 Ad blocker interference detected!
Wikia is a free-to-use site that makes money from advertising. We have a modified experience for viewers using ad blockers

Wikia is not accessible if you've made further modifications. Remove the custom ad blocker rule(s) and the page will load as expected.