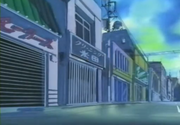 Cleaning Yoneda (クリーニング米田, Kurīningu Yoneda) is an cleaners in Domino City in the Yu-Gi-Oh! first series anime.[1]
Tetsu Tasaki drove past this building when he heard on the car radio of crimes being blamed on him and that the Marie Antoinette necklace he stole was an imitation.[1]
References
↑ 1.0 1.1 Yu-Gi-Oh! (Toei) episode 2: "The Evil Gamer - The Trap of Hell"
Ad blocker interference detected!
Wikia is a free-to-use site that makes money from advertising. We have a modified experience for viewers using ad blockers

Wikia is not accessible if you've made further modifications. Remove the custom ad blocker rule(s) and the page will load as expected.