Japanese:

ぴよボム

Romaji:

Piyo Bomu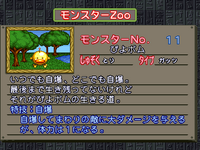 Monster Number

11

Group

Bird

Type

Gutsy

It can self-destruct anytime, anywhere.

However Chick Bomb does not

survive in the end.

Special Ability: Self-Destruct

Self-Destruct deals major damage to enemies
around, and reduces its own health to 1.
Japanese:

ぴよボム

Romaji:

Piyo Bomu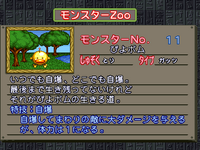 モンスターNo.

11

しゅぞく

とり Tori

タイプ

ガッシ Gasshi

いつでも自爆、どこでも自爆。

最後まで生き残ってないけれど

それがぴよボムの生きる道。

特技: 自爆

自爆してまわりの敵に大ダメージを与える
が、体力は1になる。
Ad blocker interference detected!
Wikia is a free-to-use site that makes money from advertising. We have a modified experience for viewers using ad blockers

Wikia is not accessible if you've made further modifications. Remove the custom ad blocker rule(s) and the page will load as expected.