Chazz Princeton is a video game depiction of Chazz Princeton, a character from the Yu-Gi-Oh! GX anime. He is available in Yu-Gi-Oh! Duel Arena as a Legend Partner, with a default of 6 Rental Points. His partner ID is P006.
Description
Decks
Post-October 1, 2014 Maintenance
Pre-October 1, 2014 Maintenance
Trivia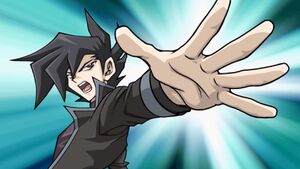 The Deck name, "Chazz It Up!", is Chazz's catchphrase in the English-dubbed anime.
Although the vast majority of cards in Chazz's Deck are ones that he used in the anime, "Light and Darkness Dragon" is a card his manga counterpart uses, along with all the monsters in his Side Deck (except "Shining Angel").
Chazz Princeton (Jun Manjome) pages
Partners

Opponents

Stage 1
Stage 2
Stage 3
Stage 4
Stage 5
Stage 6
Stage 7
Stage 8
Stage 9
Stage 10
Stage 11
Stage 12
Stage 13
Duel Monsters Arena

Other