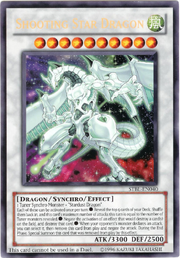 A Case Topper (also called an Oversized Promo) is a special promotional card that is much larger than the standard card size, measuring at 14 cm x 20.5 cm. Case Toppers have the text "This card cannot be used in a Duel." where the passcode normally is, and therefore, are illegal to use in actual play. Case Toppers have so far been released, often as pre-order gifts, Sneak Preview event prizes or when you buy a case of booster boxes from a recent set.
Additionally, the following are available as an oversized promo through special products: Grenosaurus, Dragunity Arma Leyvaten, Number 39: Utopia, Master Hyperion, Shadow of the Six Samurai - Shien, Poseidra, the Atlantean Dragon, Azure-Eyes Silver Dragon, Ancient Gear Gadjiltron Dragon, Machina Fortress, Cyber Dragon Nova, and Mecha Phantom Beast Dracossack, Odd-Eyes Vortex Dragon, Scarlight Red Dragon Archfiend, Nirvana High Paladin, Coral Dragon, Magician Navigation and Starving Venom Fusion Dragon.
Case Toppers by set
TCG
OCG
Case Topper items
Galleries
See also
Ad blocker interference detected!
Wikia is a free-to-use site that makes money from advertising. We have a modified experience for viewers using ad blockers

Wikia is not accessible if you've made further modifications. Remove the custom ad blocker rule(s) and the page will load as expected.