Card Checklist

English

Checklist

Other names

French: Liste des Cartes
German: Checkliste
Italian: Lista delle Carte
Korean: 체크 리스트 Cheku Riseuteu
Card Checklists (Korean: 체크 리스트 Cheku Riseuteu "Check List") are a special type of Strategy Card, that enable collectors and players to keep track of what cards from a set have been collected, giving details on Card Names (language-specific), Set Numbers, Rarities and a box to tick.
Example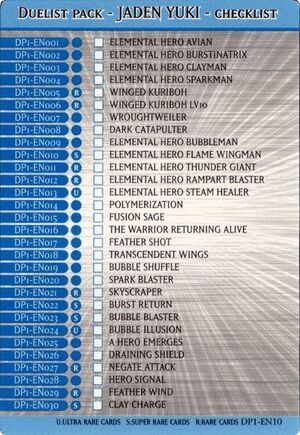 Ad blocker interference detected!
Wikia is a free-to-use site that makes money from advertising. We have a modified experience for viewers using ad blockers

Wikia is not accessible if you've made further modifications. Remove the custom ad blocker rule(s) and the page will load as expected.