"Burning Knuckle" redirects here. For archetype with a similar Japanese name, see "
Battlin' Boxer
".
Japanese:

バーニングナックル・アーマー

Romaji:

Bāningu Nakkuru Āmā

Translated: Burning Knuckle Armor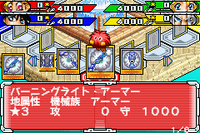 Attribute

EARTH

Type

Level
ATK / DEF

0 / 1000

For each Armor monster on your Field, this card receives a 200-point ATK bonus. If an enemy monster battles this card, the enemy monster's ATK is reduced by an amount equal to the ATK of this card. (Only one Armor monster can attack per turn. If there are 2 or more Armor monsters on your Field and an Armor monster is the target of an attack, the controller of that Armor monster can change the target of the attack to any of the Armor monsters they control).

Number

786
Other languages
| | Name | Lore |
| --- | --- | --- |
| French | Armure Embrasée | Pour chaque Monstre Armure sur ton Terrain, cette carte reçoit un bonus DEF de 200 points. Si un monstre ennemi combat cette carte, l'ATK du monstre ennemi est réduite du nombre équivalent à l'ATK de cette carte. (Seul 1 Monstre Armure peut attaquer par tour. Si 2 Monstres Armures ou plus se trouvent sur ton Terrain et qu'un Monstre Armure est la cible d'une attaque, le contrôleur de ce Monstre Armure peut changer de cible d'attaque pour n'importe lequel des Monstres Armures contrôlés.) |
| German | Brand | Mit dieser Karte bekommst du pro Panzermonster auf deinem Feld einen ATK-Bonus von 200 Punkten. Greift ein gegnerisches Monster diese Karte an, wird dessen ATK-Wert um den ATK-Wert dieser Karte gemindert. (Es kann nur ein Panzermonster pro Runde angreifen. Wenn ein Spieler zwei oder mehr Panzermonster auf dem Feld hat und eins davon angegriffen wird, kann der Spieler den Angriff auf ein Panzermonster seiner Wahl umleiten). |
| Italian | Bruciatura | Il valore ATK di questa Carta aumenta di 200 punti per ciascun Mostro Armatura presente nella tua parte di Campo. Se un Mostro nemico attacca questa Carta, il valore ATK dell'attaccante viene ridotto di un ammontare pari al valore ATK di questa Carta. Un solo Mostro Armatura può attaccare ad ogni turno. Se nella tua parte di Campo sono presenti 2 o più Mostri Armatura e uno di essi viene attaccato dal nemico, il suo possessore può far diventare bersaglio dell'attacco un altro dei Mostri Armatura sotto il suo controllo. |
| Spanish | Ardiente | Por cada monstruo Blindado en tu Campo, esta carta recibe una bonificación de 200 puntos de ATQ. Si un monstruo enemigo combate contra esta carta, el ATQ del monstruo enemigo se reduce en una cantidad igual al ATQ de esta carta. (Sólo un monstruo Blindado puede atacar por turno. Si en tu Campo hay 2 o más monstruos Blindados y un monstruo Blindado es el blanco de un ataque, el controlador de ese monstruo Blindado puede cambiar el blanco del ataque a cualquiera de los monstruos Blindados que controla). |
Search categories
Ad blocker interference detected!
Wikia is a free-to-use site that makes money from advertising. We have a modified experience for viewers using ad blockers

Wikia is not accessible if you've made further modifications. Remove the custom ad blocker rule(s) and the page will load as expected.