"Burn!" (Burn!, Bān!) is the second Japanese opening theme of the Yu-Gi-Oh! ARC-V anime, performed by Bullettrain. It debuted on November 9, 2014, and aired during episodes 31 to 49. It was replaced in episode 50 by "UNLEASH." It also served as the ending for the final episode of Yu-Gi-Oh! ARC-V.
Changes
Recording credits
Performed by: Bullettrain (超特急 Chōtokkyū)
Lyrics by: Kenji Kabashima
Composed by: Kenji Kabashima and APAZZI
Arranged by: APAZZI
Record Label: SDR
Video
First version
Second version
Lyrics (TV size)
Characters
Duel Monsters
Card appearances
Monster appearances
Trivia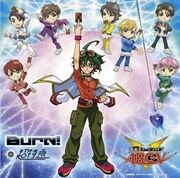 This song's CD cover features all 7 members of Bullet Train (from left to right: Yūki, Takashi, Ryōga, Yūsuke, Kai, Kōichi and Takuya), drawn in the Yu-Gi-Oh! ARC-V art style as chibis holding cards.
The opening has not used any clips from Burn! yet for the second opening after episode 31.
Ad blocker interference detected!
Wikia is a free-to-use site that makes money from advertising. We have a modified experience for viewers using ad blockers

Wikia is not accessible if you've made further modifications. Remove the custom ad blocker rule(s) and the page will load as expected.