Ad blocker interference detected!
Wikia is a free-to-use site that makes money from advertising. We have a modified experience for viewers using ad blockers

Wikia is not accessible if you've made further modifications. Remove the custom ad blocker rule(s) and the page will load as expected.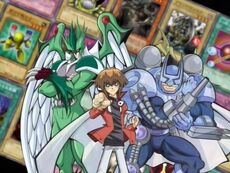 Borderline Battle
or
Genkai Battle
, is the first ending theme for
Yu-Gi-Oh! GX
. The vocals for the song are by the Japanese anime-song supergroup
JAM Project
. The song is composed by Kono Yogo, while the lyrics are written by
Hironobu Kageyama
and
Masami Okui
. It is followed by
WAKE UP YOUR HEART
.
Characters
Duel Monsters
Cards
Lyrics
Genkai Battle tatakitsukete kizutsuitatte iin jyanai

Toki wa michita atsui Duel no gongu ga hibiku
Unmai no ka-do ga hikaru

Maku wa ochita mune no kodou ga hageshiku takaburu
Erabareji mono yo saa tachiagare

New Days bokura no mirai e
Find Our Way yume o tokihanate
Ichikabachika no Counter

Dakara genkai Battle tatakitsukete kizutsuitatte iin jyanai
Time Limit made akiramenai zesousa kowasashirazusa

Genkai Battle kattobashite moetsukirya saikoujyanai

Sekaijyuu ga konojidai ga saa omaeto Ride On!
In a borderline battle, even if we strike and get hurt, isn't it okay?

The gong of a hot duel filled with time echoes
The card of destiny shines

The beating in your chest with its curtains fallen excites intensely
Chosen ones, c'mon, stand up

New days, to our future
Find our way, release our dreams
"The sink-or-swim counter"

So in a borderline battle, even if we strike and get hurt, isn't it okay?
Until the time limit, we won't give up; that's right, we don't know fear

In a borderline battle, if you knock out and burn out, isn't it the best?

The entire world, this era will, c'mon, Ride on with you!