Ad blocker interference detected!
Wikia is a free-to-use site that makes money from advertising. We have a modified experience for viewers using ad blockers

Wikia is not accessible if you've made further modifications. Remove the custom ad blocker rule(s) and the page will load as expected.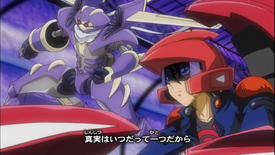 Bonds - Kizuna
(絆-キズナ) was the opening theme to
Yu-Gi-Oh! 5D's
for
episodes 1
-
26
. It was replaced by
LAST TRAIN -Atarashii Asa-
in
episode 27
. In the
5D's
bonus ending edition, this song was used in the ending with the gang leaving the city instead of
Future Colors
.
It is performed by Kra and available on the single, Kizuna.
Recording Credits
Performed by: Kra
Lyrics by: Keiyu (景夕)
Composed by: Mai (舞)
Arranged by: Kra, Masubuchi Azuma (Kra、増渕 東)
Record Label: Marvelous Entertainment/King Records (マーベラスエンターテイメント/キングレコード)
Song Full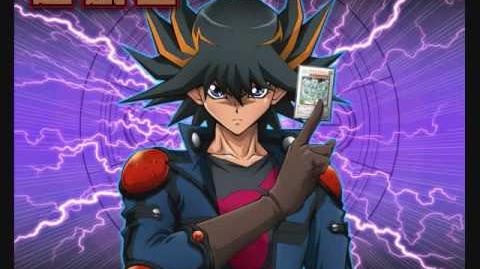 Characters
Duel Monsters
Lyrics
Japanese


Donna ni hanaretatte togireru koto wa nai sa

Yori fukaku e kizamareteyuku

Dakara kizutsuku koto o osorezu ni

Motto kakenukete yuke

Shinjiteru mono sono mune ni dakishimete

Shinjitsu wa itsu datte

Hitotsu dakara kokoro no koe o kanjite

Yuruginai kimochi o kakagete ashita e no kizashi o tsukame

English translation


No matter how far we are apart, I'll still go on

I'm going to engrave it even deeper

So, don't be afraid of getting hurt and...

Go forth, race through even harder

and take all of your beliefs into your embrace

The truth always comes in ones

so sense the voice inside your heart

Hoist your firm sentiments

and seize the signs for tomorrow

Japnese Full Version


Donna ni harareta'tte togireru koto wa nai sa

Yori fukaku e kizamareteyuku

Donna sekai ni ita'tte donna basho ni ita'tte

Mata sorezore no unmei ga motsureatteyuku

Hikareau you ni

Bokura wa kono hoshi de deau tameni umaretekita no darou

Kono saki ni matsu donna konan o mo koeteyuku tame ni

Donna ni harareta'tte togireru koto wa nai sa

Yori fukaku e kizamareteyuku

Dakara kizutsuku koto o osorezu ni

Bokura wa kono hoshi de deau tameni umaretekita no darou

Kujikesou'na toki mo te o sashinobeaeru futari de aru youni

Motto kakenuketeyuku shinjiteru mono sono mune ni dakishimete

Shinjitsu wa itsudatte hitotsu dakara kokoro no koe o kanjite

Yuruginai kimochi o kakagete ashita e no kizashi o tsukame