Bob McGuire

Names
English

Bob McGuire

Japanese

ボブ・マクガイア

Rōmaji

Bobu Makugaia

Alternate names
Appearances
Manga debut

Yu-Gi-Oh! Duel 28: "Arena #1"

Anime debut

Yu-Gi-Oh! (first series) Episode 22: "Tearing - Boarderline Shooting"

Video game debut
Personal
Gender
Loyalty
Affiliation
Previous occupation(s)

SWAT team leader

Voice actors
Japanese
Bob McGuire, known as Black in the first series anime and Bickford Gage in the English Dungeon Dice Monsters video game, is a character, who was hired by Kaiba to face Yugi in a shootout game.
Manga biography
Edit
Bob McGuire is an American, former SWAT team leader and long distance sniper.[1]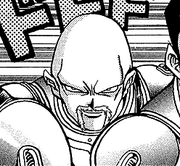 McGuire was hired for the Death-T theme park at Kaiba Land, which was created to kill Yugi Mutou. McGuire was put on a team with Johnny Gayle and "name unknown" to face Yugi and his friends in the first stage of Death-T. Each of them were promised a bounty of ¥10,000 for each opposing player they killed.[1]
Kaiba rigs the game so that the three men on his team have real lasers that cause fatal electric shocks when fired while Yugi and his friends were given toy guns.[1]
When the three mercenaries discuss how they should take out their opponents, Gayle suggests that they leave it to him, as he is the expert in guerrilla warfare. As Gayle moves out, McGuire accuses him of showing off and wanting the bounty all to himself.[2]
Jonouchi takes out Gayle, by kicking him in the face, after running along the tops of the walls. Seeing this, McGuire and name unknown start shooting at Jonouchi. With Jonouchi acting as a decoy, Honda uses the chance to shoot at McGuire, hitting the sensor in his cyber vest head on, but to no effect. Realizing that his team's guns don't work, Honda calls Yugi and Jonouchi back for a time-out.[2]
After the time out, Honda comes on to the battlefield, offering a surrender. McGuire explains that that won't be happening as they have been paid to kill him. Johji, who was hiding on Honda's back, tosses him Anzu's operational gun, which Honda uses to take-out McGuire and name unknown.[2]
Since Honda had previously set the laser to a non-lethal voltage, McGuire and name unknown are not killed.[2]
Anime biography
Edit
The characters are identified only by colors (Red, Black and Blue). All five members of Yugi's group (Yugi, Honda, Jonouchi, Anzu, and Miho) participate in the game. Miho's timidity led to the downfall of the three KaibaCorp employees.
| | |
| --- | --- |
| | This summary is currently incomplete. |
References
Edit
↑ 2.0 2.1 2.2 2.3 Yu-Gi-Oh! Duel 29: "Shooting Stardust"
Protagonists
Companions
Main antagonists
Other antagonists
Other
Protagonists
Antagonists
Other