Ad blocker interference detected!
Wikia is a free-to-use site that makes money from advertising. We have a modified experience for viewers using ad blockers

Wikia is not accessible if you've made further modifications. Remove the custom ad blocker rule(s) and the page will load as expected.
Blast Asmodian
Corresponding card
English name
Other names

Vanity's Fiend

Japanese name
Japanese

Gender
Video game debut
Blast Asmodian (character)
Blast Asmodian is a character version of the card "Blast Asmodian". It appears as a member of the Supreme King's army.
Non-canon appearances
Blast Asmodian appears in the video games, Yu-Gi-Oh! GX Spirit Caller and Yu-Gi-Oh! World Championship 2007.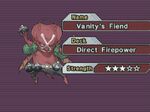 In GX Spirit Caller, he appears as a Duel Monster Spirit under the name Vanity's Fiend though this was a mistake. By beating him a few times, he can be unlocked for use by the player. He can be found at the east side of Duel Academy.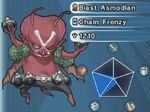 In World Championship 2007, he appears as a Level Five Theme Duelist and he challenges the player to form 5 or more Chains. By beating him, the player gets closer to unlocking Level Six Theme Duelists and a new booster pack.
Ability
In GX Spirit Caller, Blast Asmodian has the ability to allow the player to get Duelist appearances. To improve this ability, the player has to level up the spirit by Summoning the corresponding card in a Duel and winning.
Deck
In GX Spirit Caller, Blast Asmodian play a Burn Chain Deck titled, "Direct Firepower". In World Championship 2007, he play a Normal Monster Chain Deck titled, "Chain Frenzy".
Duel Opponent

Level 1
Level 2
Level 3
Level 4
Level 5
Level 6

Limited Duel Opponent

Level 1
Level 2
Level 3
Level 4
Level 5
Level 6

Theme Duel Opponent

Level 1
Level 2
Level 3
Level 4
Level 5
Level 6

Ghost Duelists

Nightmare Troubadour
Spirit Caller
Download
Misc. Download
Survival Mode

Recipe Duel Opponent
Duel Puzzles Opponent
Tutorial Opponent