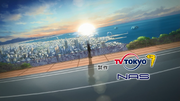 "
Believe In Magic
" (
Believe
In
Magic
,
Birību In Majikku
) is the first Japanese ending theme of the
Yu-Gi-Oh! VRAINS
anime, performed by
Ryoga
. It was replaced by
Writing Life
.
Lyrics (TV Size)
踊れ! その踵で打ち鳴らせ
叫べ! You Gotta Go 声張り上げ
謳え! 存在をさぁ解き放て
Get Away!掲げた限界超えるまで

何度でも Try It
果てしなく広がってゆく
世界の中で
限りなく繋がってゆく
Timelineの流れ
確かなことなどない
この孤独な時代
迷わず Set Yourself Free
Cuz We Still Believe in Magic
僕らが残す奇跡
僕らが残す奇跡
僕らが起こす奇跡を
Never Give Up Never!
諦めないさ Never Give Up Never!
Odore! Sono kakato de uchinarase
Sakebe! You Gotta Go koe hariage
Utae! Sonzai o saa tokihanate
Get Away! Kakageta genkai koeru made

Nandodemo Try It

Hateshinaku hirogatte yuku
Sekai no naka de
Kagirinaku tsunagatte yuku
TAIMURAIN no nagare
Tashika na koto nado nai
Kono kodokuna jidai
Mayowazu Set Yourself Free
Cuz We Still Believin' Magic
Bokura ga nokosu kiseki
Bokura ga nokosu kiseki
Bokura ga okosu kiseki o
Never Give Up Never!
Akiramenaisa Never Give Up Never!
Dance! Hammer down with your heel
Shout out! You Gotta Go, raise your voice
Sing out! Come on, and unleash your being
Get Away! Until you surpass the limits raised before you
Try It any number of times

Spreading forth endlessly into the world
Without limits, the flow of Timeline is connecting
There is nothing that is for sure
In these solitary times
Without hesitation, Set Yourself Free
Cuz We Still Believe in Magic
The miracle we leave,
the miracle we leave,
Never Give Up on
the miracle we make happen, Never!
I won't give up, Never Give Up Never!
Characters
Video
Ad blocker interference detected!
Wikia is a free-to-use site that makes money from advertising. We have a modified experience for viewers using ad blockers

Wikia is not accessible if you've made further modifications. Remove the custom ad blocker rule(s) and the page will load as expected.