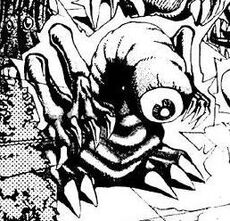 Beega is a piece in Monster World.
Yugi and his friends encountered it, while playing against Dark Bakura. Joey attempted to attack it, but rolled an 82. Since he needed a 30 or less to hit, he tripped and fell. Hiroto then attacked it, rolling a 21, allowing him to destroy it.
Characters

Locations
Chapters
Episodes
Video games
Other
Ad blocker interference detected!
Wikia is a free-to-use site that makes money from advertising. We have a modified experience for viewers using ad blockers

Wikia is not accessible if you've made further modifications. Remove the custom ad blocker rule(s) and the page will load as expected.