Battle Ox, known as Minotaurus in the Japanese version, is a character version of the card "Battle Ox". He appears in Yu-Gi-Oh! ZEXAL, as the guardian of "Number 65: Djinn Buster".
He has a different color scheme than previous incarnations of "Battle Ox". This version has blue skin and his armor is yellow with silver trim.
Biography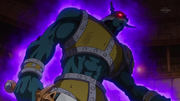 Battle Ox appears as the guardian of "Number 65: Djinn Buster"; he was defeated by Number 96 off-screen.[1]
Deck
Battle Ox had a Deck, which was not shown, since he was defeated off-screen.
Duels
| Opponent(s) | Episode(s) | Outcome |
| --- | --- | --- |
| Number 96 | 101 | Lose (off-screen) |
References
↑ Yu-Gi-Oh! ZEXAL episode 101: "The Dark Mist Rises: Part 1"
Ad blocker interference detected!
Wikia is a free-to-use site that makes money from advertising. We have a modified experience for viewers using ad blockers

Wikia is not accessible if you've made further modifications. Remove the custom ad blocker rule(s) and the page will load as expected.