Bastion Misawa, known as Daichi Misawa (三沢 大地, Misawa Daichi) in the Japanese version, is a character in the Yu-Gi-Oh! GX manga.
Biography
Bastion is attracted to Alexis Rhodes. Bastion is jealous of Jaden Yuki when he finds out that Jaden has Alexis's phone number. When he hears Alexis and Jaden talking about lending the other their Battle City DVD, he tells Jaden that he has the Battle City and Duelist Kingdom DVDs. Bastion challenges Jaden to a Duel, where if Bastion wins Jaden gives him Alexis's phone number, and if Jaden wins Bastion will lend him the Duelist Kingdom DVD. Alexis shows up during the Duel while looking to talk to Jaden about the DVD. Bastion loses the Duel, but Jaden tells Alexis she and Bastion should exchange numbers. After they do so, Bastion takes Alexis to watch the Duelist Kingdom DVD, leaving Jaden to whimper about how he was supposed to get to see it first since he won.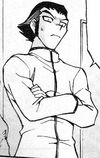 Before attending the academy, Bastion had Dueled against Chazz Princeton many times in tournaments and lost each time. As a result of his losses, Bastion respects Chazz's skill and believes that he deserves to be in Obelisk Blue. He joins the tournament in order to defeat Chazz and Jaden, losing to Chazz in the preliminaries, but winning enough Duels to advance. He wins against Reggie MacKenzie in the first round of the finals, although only because she held back in the last turn, and Duels Jaden. Despite how much he prepared, Jaden manages to defeat him. During the mini-tournament held between Duel Academy's students and the Overseas Champions, Bastion teams with Alexis to defeat Adrian Gecko and Jesse Anderson. Later, Bastion loses to James Crocodile Cook and suffers the effects of a Shadow Duel as a result. He is revived when Jaden and Chazz defeat Tragoedia, and witnesses Jaden's match against Koyo Hibiki years later.
Deck
Bastion plays a Yokai Deck, which relies on the Summoning of monsters from his Graveyard. The Yokai Monsters often have effects that activate in the Graveyard or when they are Special Summoned from the Graveyard. Bastion includes cards which send his own cards to the Graveyard such as "Card Destruction", "Spirits Rest" and "Foolish Burial", while reviving his monsters via cards such as "Vindictive Spirits", "Mezuki", "Night Parade of One Hundred Horrors" and "Ghostly Reinforcements". He also builds up enough monsters in his Graveyard to Special Summon his ace monster "Red Ogre" via "Judgment of the Underworld Ruler".
Image
Information
Crow Tengu (カラス天狗 Karasu Tengu)

Level

4 ★★★★

ATK

0

0

0

0

1400

DEF

0

0

0

0

1200

Daidara-Bocchi (ダイダラボッチ Daidarabocchi)

Level

10 ★★★★★★★★★★

ATK

0

0

0

0

2900

DEF

0

0

0

0

2500

Fire Wagon | Fiery Chariot (火車 Kasha)

Level

8 ★★★★★★★★

ATK

0

0

0

0

0

0

0

?

DEF

0

0

0

0

1000

Fox Fire (きつね火 Kitsunebi)

Level

2 ★★

ATK

0

0

0

0

0

300

DEF

0

0

0

0

0

200

Gozuki (牛頭鬼 Gozuki)

Level

4 ★★★★

ATK

0

0

0

0

1700

DEF

0

0

0

0

0

800

Ittan Momen (一反木綿 Ittan-Momen)

Level

4 ★★★★

ATK

0

0

0

0

1200

DEF

0

0

0

0

1500

Long-Tailed Black Horse | Onagakokuba (尾長黒馬 Onagakokuba)

Level

4 ★★★★

ATK

0

0

0

0

1400

DEF

0

0

0

0

0

800

Mezuki (馬頭鬼 Mezuki)

Level

4 ★★★★

ATK

0

0

0

0

1700

DEF

0

0

0

0

0

800

Nine-Tailed Fox (九尾の狐 Kyūbi no Kitsune)

Level

6 ★★★★★★

ATK

0

0

0

0

2200

DEF

0

0

0

0

2000

Nurikabe (ヌリカベ Nurikabe)

Level

4 ★★★★

ATK

0

0

0

0

0

900

DEF

0

0

0

0

2000

Onmoraki (陰魔羅鬼 Onmoraki)

Level

4 ★★★★

ATK

0

0

0

0

1200

DEF

0

0

0

0

1000

Red Ogre (赤鬼 Akaoni)

Level

7 ★★★★★★★

ATK

0

0

0

0

2800

DEF

0

0

0

0

2100

Rigrass Leever | Rigorous Reaper (リグラス・リーパー Rigurasu Rīpā)

Level

3 ★★★

ATK

0

0

0

0

1600

DEF

0

0

0

0

0

100

Shutendoji (酒呑童子 Shutendōji)

Level

4 ★★★★

ATK

0

0

0

0

1500

DEF

0

0

0

0

0

800

Goka, the Pyre of Malice | Hellfire, the Soul of Malice (怨念の魂 業火 Onnen no Tamashii Gōka)

Level

6 ★★★★★★

ATK

0

0

0

0

2200

DEF

0

0

0

0

1900

Card Destruction | Hand Obliteration (手札抹殺 Tefuda Massatsu)

Card type

Spell Card

Foolish Burial (おろかな埋葬 Orokana Maisō)

Card type

Spell Card

Gathering of Malice (怨念の集結 Onnen no Shūketsu)

Card type

Spell Card

Graceful Charity | Angel's Charity (天使の施し Tenshi no Hodokoshi)

Card type

Spell Card

Mystical Space Typhoon | Cyclone (サイクロン Saikuron)

Card type

Spell Card

Negate Attack | Attack Nullification (攻撃の無力化 Kōgeki no Muryokuka)

Card type

Spell Card

Nobleman of Extermination | Apostle of Extermination (撲滅の使徒 Bokumetsu no Shito)

Card type

Spell Card

Phantasmagoria (奇奇怪怪 Kikikaikai)

Card type

Spell Card

Reload (リロード Rirōdo)

Card type

Spell Card

Saber of Malice | Short Sword of Malice (怨念の小太刀 Onnen no Kodachi)

Card type

Spell Card

Smashing Ground (地砕き Jikudaki)

Card type

Spell Card

Spirits Rest | Repose of the Vengeful Ghosts (もののけの安息 Mononoke no Ansoku)

Card type

Spell Card

Enma's Judgment (閻魔の裁き Enma no Sabaki)

Card type

Trap Card

Fate of the Living (生者の末路 Seija no Matsuro)

Card type

Trap Card

Fires of Shiranui (不知火の揺らめき Shiranui no Yurameki)

Card type

Trap Card

Ghostly Reinforcements (妖魔の援軍 Yōma no Engun)

Card type

Trap Card

Graveyard of Wandering Souls (魂のさまよう墓場 Tamashī no Samayō Hakaba)

Card type

Trap Card

Haunted Shrine | Haunted Shrine of Wretched Ghosts (もののけの巣くう祠 Mononoke no Sukū Hokora)

Card type

Trap Card

Leaf of the Transforming Tanuki (化け狸の葉っぱ Bakedanuki no Happa)

Card type

Trap Card

Narukami Waterfall | Narukami Waterfall Basin (ナルカミの滝壺 Narukami no Takitsubo)

Card type

Trap Card

Vindictive Spirits (怨霊の執念 Onryō no Shūnen)

Card type

Trap Card

Fireball Token (火の玉トークン Hi no Tama Tōkun)

Level

1 ★

ATK

0

0

0

0

0

100

DEF

0

0

0

0

0

100

Fox Token (狐トークン Kitsune Tōkun)

Card type

Monster Card, Token Monster
Duels
References
Anime, manga, books
Video games