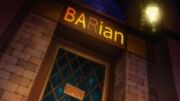 BARian is a bar in the Yu-Gi-Oh! ZEXAL anime.
The BARian has poor lighting, and on the two occasions it was shown, Girag and Alito were the only customers shown. It was here that Alito asked Girag for advice on how to court Tori Meadows.
Ad blocker interference detected!
Wikia is a free-to-use site that makes money from advertising. We have a modified experience for viewers using ad blockers

Wikia is not accessible if you've made further modifications. Remove the custom ad blocker rule(s) and the page will load as expected.