Ad blocker interference detected!
Wikia is a free-to-use site that makes money from advertising. We have a modified experience for viewers using ad blockers

Wikia is not accessible if you've made further modifications. Remove the custom ad blocker rule(s) and the page will load as expected.
Japanese:

アルマザウルス

Romaji:

Aruma Zaurusu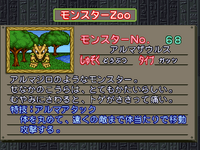 Monster Number

68

Group

Animal

Type

Gutsy

An armadillo-like monster.

The shell on its back seems very hard.

If you touch it without thinking, you'll get hurt by its spikes.

Special Ability: Armor Attack

It curls up its body to ram
distant enemies.
Japanese:

アルマザウルス

Romaji:

Aruma Zaurusu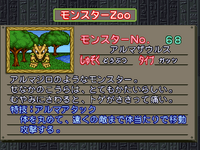 モンスターNo.

68

しゅぞく

どうぶつ Dōbutsu

タイプ

ガッシ Gasshi

アルマジロのようなモンスター。

せなかのこうらは、とてもかたいらしい。

むやみにさわると、トゲがささって痛い。

特技: アルマアタック

体を丸めて、遠くの敵まで体当たりで移動
攻撃する。
Manga and anime
Japanese

アルマザウルス

Romaji

Aruma Zaurusu

Game
Level

5

Abilities

Armor Attack: By curling up into a ball and rolling, Armorsaurus can destroy the nearest monster in a straight line.

Move Pattern

+

Appearances
Japanese

アルマザウルス

Romaji

Aruma Zaurusu

Game
Level

5

Abilities

Armor Attack: By curling up into a ball and rolling, Armorsaurus can destroy the nearest monster in a straight line.

Move Pattern

+

Appearances