"Ape" (エイプ Eipu) is a series of Beast-Type monsters. They are used by Devack in Yu-Gi-Oh! 5D's.
They often can be treated as a different Type when face-up on the field.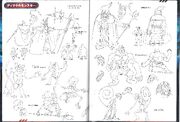 The only "Ape" monsters released are "Ape Fighter", "Ape Magician" and "Zeman the Ape King". Devack uses "Zeman the Ape King" as a Dark Synchro Monster, not a Synchro Monster.
 

Ape

TCG/OCG
Anime/Manga
Video Game