Alito (アリト, Arito) is a character in the spin-off manga Yu-Gi-Oh! D Team ZEXAL. This is an alternate incarnation of Alito, a character from the Yu-Gi-Oh! ZEXAL anime.
Design
Appearance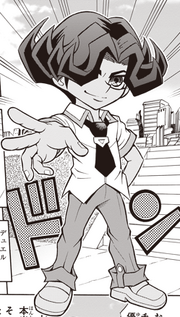 Biography
Alito challenged Yuma Tsukumo to an all-out-Duel as he was the winner of the Team Duel Tournament.[1]
Alito later appeared at the opening ceremonies of the Duel Team Carnival, having formed a team with Girag and Rei Shingetsu.[2]
Deck
Alito uses a "Battlin' Boxer" Deck, utilizing cards such as "Battlin' Boxer Switchitter" and "Battlin' Boxer Sparrer" to easily Xyz Summon.
Duels
References
↑ Yu-Gi-Oh! D Team ZEXAL Chapter 16: "An All-Out Duel!!"
↑ Yu-Gi-Oh! D Team ZEXAL Chapter 20: "The Opening of the Duel Team Carnival!!"
Notes
Team ZEXAL and allies
Adversaries
Minor
Ad blocker interference detected!
Wikia is a free-to-use site that makes money from advertising. We have a modified experience for viewers using ad blockers

Wikia is not accessible if you've made further modifications. Remove the custom ad blocker rule(s) and the page will load as expected.