Alexis Rhodes, known as Asuka Tenjoin (天上院明日香, Tenjōin Asuka) in the Japanese version, is a character in the Yu-Gi-Oh! GX manga.
Personality
Alexis' manga-counterpart is the same as her anime-counterpart in terms of ranking, strength, looks, and motivation, though the only key difference is that she doesn't display any romantic feelings for Jaden, but is the object of Bastion Misawa's affections. She does also feel awkward for her older brother's playful/unserious attitudes, usually reacting with a facepalm and sighs heavily each time other characters are referring to Atticus's weird habits/characteristics. What does make her feel embarrassed/awkward the most is when people call her brother by his self-given nickname "Rhodie" (in the English version)/"Fubu-king" (Japanese original version) or when somebody asks Alexis who "Rhodie"/"Fubu-king" would be, like Syrus once did so.
Biography
Alexis longs to be viewed as a Duelist by her peers, rather than simply a female, and goes out of her way to take Seika Kohinata's place in a Duel against Jaden. Though she loses, she still becomes Miss Duel Academy, as Seika withdraws from the competition, feeling unable to accept the title after seeing how much acclaim Alexis won for her Duel. Alexis participates in the tournament hosted at Duel Academy. She fights Reggie MacKenzie in the preliminaries and loses. She later Duels David Rabb in the finals; while she is frustrated by the loss, she sees it as an opportunity to motivate herself to become a better Duelist.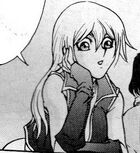 She and Bastion Misawa battle Jesse Anderson and Adrian Gecko in a Tag Duel. They manage to win, much to Adrian's annoyance. She is matched against Aster Phoenix in the singles matches, and loses to his "The Grand Jupiter". She witnesses Jaden and Chazz's Duel against Tragoedia and is present for Jaden's match against Koyo Hibiki years later.
Deck
Alexis plays an Ice Deck based on the distribution of Ice Counters through the usage of several cards. The placement of Ice Counters on monsters triggers the effects of various support cards, giving Alexis access to a myriad of effects ranging from the negation of card effects to immobilizing her opponent's monsters. Several of Alexis' cards also display a strong relation to ice or cold even if they don't rely on "Ice Counters", such as her "Ice Queen" and "Twin Pillars of Ice."
Image
Information
Blizzard Princess (ブリザード・プリンセス Burizādo Purinsesu)

Level

8 ★★★★★★★★

ATK

0

0

0

0

2800

DEF

0

0

0

0

2100

Cold Enchanter (コールド・エンチャンター Kōrudo Enchantā)

Level

4 ★★★★

ATK

0

0

0

0

1600

DEF

0

0

0

0

1200

Crystal Girl (クリスタル・ガール Kurisutaru Gāru)

Level

1 ★

ATK

0

0

0

0

0

200

DEF

0

0

0

0

0

100

Cyber Valkyrie | Hail Cyber (ヘイル・サイバー Heiru Saibā)

Level

4 ★★★★

ATK

0

0

0

0

1300

DEF

0

0

0

0

1500

Frost Tiger | Cold Tiger (コールド・タイガー Kōrudo Taigā)

Level

4 ★★★★

ATK

0

0

0

0

1900

DEF

0

0

0

0

0

???

Ice Doll (アイス・ドール Aisu Dōru)

Level

2 ★★

ATK

0

0

0

0

0

800

DEF

0

0

0

0

1000

Ice Master | Ice Blizzard Master (アイス・ブリザード・マスター Aisu Burizādo Masutā)

Level

8 ★★★★★★★★

ATK

0

0

0

0

2500

DEF

0

0

0

0

2000

Ice Queen (氷の女王 Kōri no Jo'ō)

Level

8 ★★★★★★★★

ATK

0

0

0

0

2900

DEF

0

0

0

0

2100

Snowman (雪ダルマン Yukidaruman)

Level

3 ★★★

ATK

0

0

0

0

0

900

DEF

0

0

0

0

1500

Absolute Zero Barrier | Absolute Ice Wall (絶対氷壁 Zettai Hyōheki)

Card type

Spell Card

Crown of Command | Crown of the Absolute Monarch (絶対君主の冠 Zettai Kunshu no Kanmuri)

Card type

Spell Card

Curtain of Hail (カーテン・オブ・ヘイル Kāten obu Heiru)

Card type

Spell Card

Ice Doll Mirror (アイス・ドール・ミラー Aisu Dōru Mirā)

Card type

Spell Card

Instant Freeze (瞬間氷結 Shunkan Hyōketsu)

Card type

Spell Card

Soul Infusing Sculptor (魂をふきこむ彫刻家 Tamashī o Fukikomu Chōkokuka)

Card type

Spell Card

Twin Pillars of Ice | Frigid Icicles (極寒の氷柱 Gokkan no Hyōchū)

Card type

Spell Card

Blizzard Wall | Blizzard Curtain (ブリザード・カーテン Burizādo Kāten)

Card type

Trap Card

Cold Fusion | Fusion Freezing (フュージョン・フリージング Fyūjon Furījingu)

Card type

Trap Card

Doble Passe (ドゥーブルパッセ Dūburupasse)

Card type

Trap Card

Ice Barrier (氷結界 Hyōkekkai)

Card type

Trap Card

Ice Block (アイス・ブロック Aisu Burokku)

Card type

Trap Card

The Ice-Bound God | Freezing of God (神の氷結 Kami no Hyōketsu)

Card type

Trap Card

Pillar Token ( ')

Level

1 ★

ATK

0

0

0

0

0

0

0

0

DEF

0

0

0

0

0

0

0

0
Duels
References
Anime, manga, books
Video games