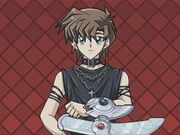 Accessories is the outfit worn by Yugi Muto and subsequently Yami Yugi on the date with Téa Gardner shortly before Battle City.
Non-canon appearances
The accessories can be unlocked in some World Championship video games and can be worn by male players. The female alternative is the dress of leather.